IF THE ORDER FORM IS NOT WORKING PROPERLY TRY A SCREEN PRINT, OR JUST WRITE DOWN THE PERTINENT INFORMATION AND ATTACH IT TO THE TRANSPONDER
---
YES THERE IS A LIVE PERSON AT THE NUMBER BELOW. WE PREFER EMAIL BUT IF YOU'RE IN A HURRY BERTA ANSWERS THE PHONE.

OUR INTERNET BASED SYSTEM IS STRUCTURED TO MINIMIZE ROUTINE CONTACT AND PAPERWORK SO WE CAN PROVIDE FASTER SERVICE AT A BETTER VALUE.
---
FAQ ANSWERS:
WE ARE UNABLE TO TROUBLESHOOT A DEFECTIVE TRANSPONDER OVER THE TELEPHONE. USE

TO HELP NARROW DOWN THE PROBLEM.
"AFTER THE SERVICE" TECH SUPPORT IS CHEERFULLY AVAILABLE BY PHONE IF YOU HAVE ANY PROBLEMS WITH YOUR RECENTLY REPAIRED (BY US) TRANSPONDER.
YES YOUR TRANSPONDER IS WORTH REPAIRING UNLESS IT REQUIRES EXPENSIVE PARTS (WHICH DOES NOT HAPPEN OFTEN).
YES WE WILL CONTACT YOU IF AN EXPENSIVE PART IS REQUIRED. OUR MAXIMUM LABOR FLAT RATE IS NEVER MORE THAN $289.
OUR ASSESSMENT FEE FOR A "BEYOND ECONOMICAL REPAIR" UNIT IS $75 (INCLUDES RETURN SHIPPING), OR NOTHING IF YOU LEAVE THE UN-REPAIRABLE UNIT WITH US (FOR PARTS).
MOST OF OUR REPAIRS ARE $170 ($135 ALIGNMENT PLUS $35 S/H). MOST CUSTOMERS INCLUDE A CHECK FOR $170 WITH THEIR TRANSPONDER, HOWEVER THIS IS OPTIONAL. YOU MAY PAY US AFTER YOU ARE SATISFIED WITH THE REPAIR BUT PLEASE DO SO WITHIN 30 DAYS.
SORRY WE CAN NOT NOT SELL PARTS OR RELEASE COPYRIGHTED MATERIALS TO OTHER THAN PROPERLY CERTIFIED AGENCIES.
WE PROVIDE TECH SUPPORT ON OUR PRODUCT, WHICH IS REPAIR SERVICE TO OUR CUSTOMERS. PLEASE CONTACT YOUR PRODUCT'S MANUFACTURER FOR ALL OTHER DATA.
---
FOR OUR INTERNATIONAL CUSTOMERS: SOME TRADE RESTRICTIONS APPLY TO CERTAIN REGIONS. IF IN DOUBT CONTACT US FIRST. PROVIDE INSTRUCTIONS FOR SHIPPING AND INSURANCE. WE CHARGE ACTUAL SHIPPING FEES PLUS AN EXTRA $40 USD FOR THE ADDED CUSTOMS PAPERWORK. WE DECLARE ONLY THE VALUE OF THE REPAIR FOR CUSTOMS AND PROVIDE A COPY OF YOUR EXPORT DOCUMENT AS PROOF OF ORIGIN. YOUR SHIPPING CHARGES ARE BASED ON THE ACTUAL RATE WE ARE CHARGED. WE WILL BE HAPPY TO USE YOUR PREPRINTED/PREPAID SHIPPING LABEL IF YOU SEND OR EMAIL IT TO US. WE PROVIDE AN FAA FORM 8130-3 MAINTENANCE RELEASE. WE RELEASE YOUR ITEM AFTER CREDIT CARD PAYMENT.
---
THE BEST APPROACH IS TO START WITH OUR INTERACTIVE HELP

. YOU MAY USE THIS AS A TOOL TO DETERMINE WHAT SORT OF MAINTENANCE IS REQUIRED, AND HOW IT SHOULD BE PERFORMED. THIS IS YOUR RIGHT AND ULTIMATELY YOUR DECISION.
PLEASE USE THE ORDER FORM TO ORDER SERVICE. THIS WILL ALLOW YOU TO PRINT OUT A SERVICE REQUEST (THE CORE OF OUR RECEIVING INSPECTION) SAVING US TIME AND YOU MONEY.
CONTACT INFORMATION
ROBERTA FRENCH, ACCOUNTABLE MANAGER
DAN FRENCH, CHIEF INSPECTOR
SHIPPING/BILLING ADDRESS:
FLIGHT CONTROL SERVICES
5550 NORTH AIRPORT ROAD
MILTON, FL 32583
PHONE: (850) 665-5037 665-2130
EMAIL: flightcontrolserv@gmail.com
WE ARE FAMILY OWNED AND OPERATED WITH OVER 43 YEARS OF AVIONICS EXPERIENCE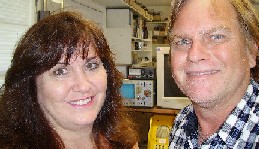 BERTA AND DAN FRENCH