ADS-B SELF INSTALL OFFER
WE ARE NOW OFFERING A SELF INSTALL KIT FOR THE APPAREO ESG ADS-B TRANSPONDER. THE KIT INCLUDES EVERYTHING YOU NEED TO COMPLETE THE INSTALL:
* ESG TRANSPONDER WITH A CUSTOM BUILT WIRING HARNESS, WAAS ANTENNA, RG400 COAX, RF CONNECTORS, MOUNTING TRAY & HARDWARE AND A BNC CRIMP TOOL.
* WE PREPROGRAM YOUR ESG TRANSPONDER WITH YOUR AIRCRAFT'S DATA AND PERFORM THE 24 MONTH TRANSPONDER CERTIFICATION AS A BENCH TEST PRIOR TO SHIPPING.
* CURRENT INSTALL MANUAL, INSTALLATION INSTRUCTIONS, FLIGHT MANUAL SUPPLEMENT, TRANSPONDER 24 MONTH LOG STICKER AND COMPLETED 337 FORMS AND LOG ENTRY FOR YOUR IA TO SIGN.
* YOUR IA WILL AUTHORIZE A FLIGHT TEST USING OUR 337 FORM AND OUR BRIEFING. WE WILL PULL THE RESULTS FROM THE FAA WEBSITE. THE SECOND 337 FORM AUTHORIZES RETURN TO SERVICE.
IF ANY ADDITIONAL ITEMS ARE NEEDED TO COMPLETE THE INSTALL WE WILL SHIP IT TO YOU AT NO ADDITIONAL CHARGE. OTHER THAN YOUR A&P/IA FEES THERE IS NOTHING ELSE TO BUY.
TOTAL PRICE IS $2875. THAT'S LESS THAN THE $2995 CATALOG PRICE WITHOUT THE WIRING HARNESS OR ADDITIONAL PARTS AND SERVICES WE PROVIDE
YOU WILL NEED AN A&P TO INSTALL AND AN IA TO INSPECT AND SIGN OFF THE THE WORK. THEY WILL NEED TO INSTALL THE WAAS GPS ANTENNA, RUN THE COAX, REMOVE THE OLD TRAY AND SOME WIRING, SPLICE 2 WIRES (POWER AND GROUND), SPLICE 9 ENCODER WIRES (ALL SPLICES MARKED AND ATTACHED), MOUNT THE NEW TRAY, CONNECT THE TRANSPONDER ANTENNA, SLIDE IN THE NEW TRANSPONDER, GROUND CHECK AND INSPECTION, ADS-B TEST FLIGHT. (A GROUND TEST IS REQUIRED BEFORE TEST FLIGHT. CALL US FOR DETAILS).
THE APPAREO ESG ADS-B OUT MODE S TRANSPONDER COUPLED TO A STRATUS 3i ADS-B IN RECEIVER IS PERHAPS THE EASIEST AND MOST ECONOMICAL ROUTE TO GLASS IN THE COCKPIT. WITH YOUR
TOUCHPAD VIEW YOUR POSITION AND ROUTE SUPERIMPOSED ON A COLORFUL MOVING MAP WITH TRAFFIC AND WEATHER. THERE IS MUCH MORE. VISIT Stratus By Appareo | Avionics for Pilots.
THE 3i ADS-B IN MODULE COMES PLUG AND PLAY PREWIRED TO YOUR ESG TRANSPONDER. AN ADDITIONAL GPS ANTENNA IS NOT REQUIRED BECAUSE THE 3i RECEIVES IT'S SOURCE DATA FROM THE WAAS FROM THE ESG TRANSPONDER, AS WELL AS POWER.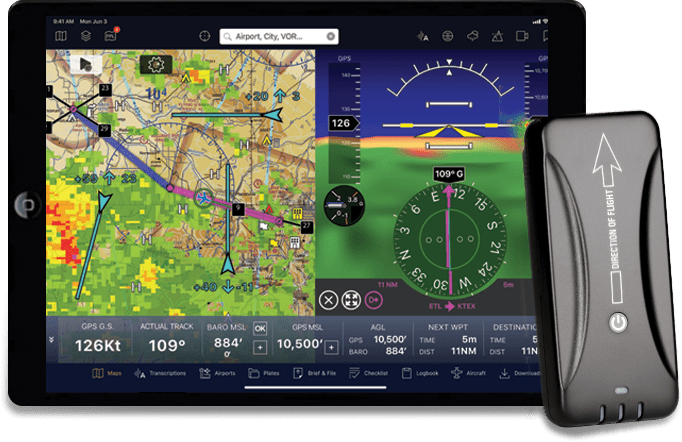 TO GET STARTED PLEASE TEXT OR EMAIL PHOTOS OF YOUR RADIO STACK AND EXTERIOR ABOVE THE COCKPIT FOR ANTENNA PLACEMENT ADVICE PLUS MAKE, MODEL AND N NUMBER
IF YOU NEED DETAILS PLEASE GIVE ROBERTA A CALL AT (850) 665-2130
WHO CAN PROVIDE MAINTENANCE ON A MODE A/C TRANSPONDER AND SYSTEM
Definition: A transponder is a box that contains all necessary internal circuitry and controls (if it is panel mounted). It can be removed from a rack or tray for maintenance or repair.
A transponder system may be defined as the parts that are permanently installed such as the rack or tray, wiring and connectors, circuit protection, antenna and the coax (transmission line) that supplies the antenna as well as the transponder itself. Interfacing items usually include an encoder (altitude reporter) and possibly a connection to an ADS-B, GPS, display, control head or other item.
PRIVATE PILOT: May conduct functional testing in accordance with the manufacturer's operational instructions. A private pilot may not provide maintenance on any part of the system (even preventative).
LICENSED MECHANIC: May remove the transponder for maintenance or inspect wiring, security and test wiring continuity.
CERTIFIED REPAIR STATION: May provide both of the above plus recertification and repairs if appropriately rated. Many CRS holders perform testing only.
MANUFACTURER OF TRANSPONDER: May provide repairs but not authorized to recertify.
THIS AGENCY: All of the above. However unless you can bring the aircraft to us you will need a licensed mechanic to perform maintenance on the system.