ALMOST EVERYTHING YOU ALWAYS WANTED TO KNOW ABOUT TRANSPONDERS
THE STANDARD MODE A/C TRANSPONDER IS THE AIRBORNE PORTION OF THE MODERN ATC SYSTEM. THE GROUND BASED PORTION OF THE SYSTEM ARE THE RADAR STATIONS THAT WILL INTERROGATE ANY TRANSPONDER WITHIN RANGE AND STIMULATE A RESPONSE FROM THE TRANSPONDER TO ATC WHICH INCLUDES SQUAWK CODE, MODE C ALTITUDE AS WELL AS BEARING, RANGE AND DISTANCE. ALL TRANSPONDERS INCORPORATE THE SAME BASIC ARCHITECTURE HOWEVER THROUGH THE YEARS COMPONENTS AND CIRCUIT DESIGN HAS IMPROVED. MAJOR CIRCUITS INCLUDE:
1. RECEIVER. THIS CIRCUIT INCLUDES A BAND PASS FILTER. A CRYSTAL CONTROLLED OSCILLATOR, A MIXER, AMPLIFICATION, AND A DETECTOR. THE RECEIVER'S TASK IS TO DETECT, AMPLIFY, PROCESS AND PASS THE SIGNAL OVER TO THE DECODER.
2. DECODER. THIS CIRCUIT IS USED TO PROPERLY AUTHENTICATE THE SIGNAL AS A LEGITIMATE INTERROGATION AND NOT NOISE OR INTERFERENCE. AN INTERROGATION IS A SERIES OF THREE PULSES THAT ARE PERFECTLY TIMED TO TRIGGER EITHER A MODE A OR MODE C RESPONSE. THESE PLUSES ARE P1, P2 AND P3. P1 AND P3 ARE ONLY RECEIVED WHEN THE GROUND RADAR ANTENNA IS POINTED DIRECTLY AT THE TARGET, WHILE P2 IS RECEIVED AT ALL TIMES THE TRANSPONDER IS IN RANGE. THE ASSOCIATION, TIMING AND PRESENCE OF THESE SIGNALS HELPS TO ELIMINATE ANY FALSE REPLIES.
3. MODE GATE. THIS CIRCUIT IS USED TO DETERMINE HOW TO REPLY TO THE GROUND RADAR. THERE ARE 2 POSSIBLE REPLIES, MODE A (SQUAWK CODE) AND MODE C (ALTITUDE). BOTH MODES UTILIZE GATES THAT CAN BE FINE TUNED FOR ACCURATE REPORTING. ONE OF THE MOST COMMON TRANSPONDER FAILURES IS WHEN A MODE GATE IS OUT OF SYNC AND NEEDS TO BE TIMED.
4. ENCODER. HERE IS WHERE THE PROCESS OF REPLY BEGINS. DATA FROM THE PILOT'S CODE SWITCHES (MODE A) AND THE ALTITUDE ENCODER (MODE C) IS LOADED INTO THE ENCODER. IT IS THEN PASSED ONTO THE MODULATOR AS EITHER A MODE A, MODE C OR BOTH DEPENDING ON THE STATE OF THE MODE GATE.
5. MODULATOR. BOTH STEP 2 THROUGH 4 (ABOVE) DESCRIBE THE TRANSPONDERS OPERATION WHILE IT IS IN ITS DIGITAL STATE. IN ORDER TO TRANSMIT A REPLY WITH DATA TO ATC IT MUST BE CONVERTED INTO A RADIO FREQUENCY. THE MODULATOR CAN BE THOUGHT OF AS A DIGITAL TO ANALOG CONVERTER AND IS CONNECTED DIRECTLY TO THE TRANSMITTER.
6. TRANSMITTER. MOST TRANSPONDERS USE A CAVITY RESONATOR WHICH IS A TYPE OF HIGH POWER OSCILLATOR. IT IS A TYPE OF TUBE DESIGNED TO EMIT ELECTRONS INTO THE PATH OF A TIGHT CIRCLE WITH A SERIES OF PRECISELY SPACED CAVITIES. AS THE ELECTRONS CIRCULATE THEY WILL DIP IN AND OUT OF THE CAVITIES. THIS SETS UP A VERY PRECISE OSCILLATION AT 1.090 GIGAHERTZ. THIS OSCILLATION IS MIXED WITH THE OUTPUT FROM THE MODULATOR.
7. DUPLEXER. THIS CIRCUIT PERMITS THE TRANSPONDER TO ACT AS A TRANSCEIVER AND ALLOWS THE USE ON A SINGLE ANTENNA FOR BOTH RECEIVE AND TRANSMIT.
OTHER CIRCUITS INCLUDE:
REGULATOR: TRANSPONDERS DO NOT USE BUSS VOLTAGE IN ANY INTERNAL CIRCUIT. ALL TRANSPONDERS HAVE A REGULATOR THAT CONVERTS BUSS VOLTAGE TO A LOWER VALUE. SOME REGULATORS ARE AS LOW AS 9 VOLTS AND IF THE BATTERY VOLTAGE DROPPED TO THAT LEVEL THE TRANSPONDER MAY CONTINUE TO OPERATE.
SELF TEST: AN INGENIOUS CIRCUIT. WHEN YOU SELECT SELF TEST YOU ACTIVATE AN OSCILLATOR THAT INJECTS A SIGNAL DIRECTLY INTO THE RECEIVER. THIS TRICKS THE RECEIVER INTO THINKING IT BEING INTERROGATED AND PASSES THIS ALONG TO THE DECODER, ENCODER AND TRANSMITTING CIRCUITS. WHEN THE REPLY LAMP ILLUMINATES YOU CAN BE ASSURED MOST OF THE TRANSPONDER IS WORKING. HOWEVER A SUCCESSFUL SELF TEST WILL NOT REVEAL POSSIBLE PROBLEMS IN THE RECEIVER, MISCODING ERRORS OR OFF FREQUENCY AND LOW TRANSMIT PROBLEMS. NEVER THE LESS IT IS ALWAYS A GOOD SIGN TO SEE IT LIGHT UP.
HIGH VOLTAGE: THE CAVITY IS A TUBE AND AS SUCH REQUIRES ABOUT 1300VDC FOR IT'S PLATE CIRCUIT TO OPERATE. REGULATED DC IS CONVERTED TO AC BY AN INVERTER CIRCUIT AND RUN THROUGH A TRANSFORMER TO CREATE THE HIGH VOLTAGE AND THEN CONVERTED BACK TO DC. THE INVERTER MAKES THE HIGH FREQUENCY WHINE YOU MAY HEAR IF YOU LISTEN CLOSELY.
IDENT: THIS IS PART OF THE ENCODING CIRCUIT. WHEN ACTIVATED IT CREATES AN EXTRA PULSE THAT RIDES PIGGYBACK ON THE MODE A REPLY. IT UTILIZES A TIMER OF ABOUT 15 SECONDS AND ACTIVATES THE REPLY LAMP. PRESSING IDENT, WHEN REQUESTED, WILL HELP ATC LOCATE YOUR AIRCRAFT ON THEIR SCREEN.
SOME HISTORY:
TRANSPONDERS WERE DEVELOPED TO OVERCOME THE PRIMARY WEAKNESS OF THE ATC RADAR SYSTEM. THE VERY EARLY "SKIN PAINT" RADARS COULD ONLY BOUNCE A SIGNAL OFF A TARGET. THIS COULD SUPPLY BEARING, RANGE AND DISTANCE BUT WAS SKETCHY AND UNRELIABLE. BEFORE THE AGE OF TRANSPONDERS AN OPERATOR WOULD NEED TO MANUALLY ADJUST THE GAIN ON HIS SET TO SEE TRAFFIC. LET'S SAY HE WAS FOLLOWING TWO TARGETS, THE FIRST 20 MILES OUT AND THE SECOND 80 MILES. TO OBSERVE THE 20 MILE TARGET HE WOULD NEED TO REDUCE THE GAIN GRADUALLY. AT FIRST HE WOULD SEE A LARGE AND DIM CIRCLE ON HIS SCREEN THAT WOULD, AS HE CONTINUED TO REDUCE THE GAIN, BECOME SMALLER AND BRIGHTER UNTIL IT BECAME A SINGLE DOT. HOWEVER THE 80 MILE TARGET WOULD NOT BE SEEN. TO OBSERVE THE MORE DISTANT TARGET HE WOULD INCREASE THE GAIN AND AS HE DID THE 20 MILE TARGET WOULD CHANGE BACK INTO A CIRCLE GROWING LARGER AND DIMMER UNTIL IT DISAPPEARS COMPLETELY. THE 80 MILE TARGET WILL COME INTO VIEW AS A LARGE FUZZY CIRCLE BECOMING BRIGHTER AND SHARPER AS THE GAIN IS FURTHER INCREASED. NOW IMAGINE THIS OPERATOR WAS MONITORING A FEW DOZEN AIRCRAFT.
BY INTRODUCING AIRBORNE RADAR TRANSPONDERS THE ATC CONTROLLER CAN OBSERVE EVERY TRANSPONDER EQUIPPED AIRCRAFT IN HIS RANGE. ADD TO THIS THE ABILITY TO IDENTIFY AIRCRAFT BY SQUAWK CODE AND ALTITUDE, SEPARATE VFR AND IFR TRAFFIC, DETERMINE AIRSPACE PROXIMITY AND PROXIMITY ALERTS, CONNECT IFR TRAFFIC TO A FLIGHT PLAN AND SO MUCH MORE.
THE EARLIEST TRANSPONDERS WERE MILITARY IFF FRIEND OR FOE SYSTEMS THAT WERE FAR TOO HEAVY AND COMPLEX FOR CIVILIAN AIRCRAFT. THE MODERN TRANSPONDER HAS DOZENS OF LOGIC CIRCUITS THAT REQUIRE VERY FAST SWITCHING. THIS WAS ONLY POSSIBLE WHEN TEXAS INSTRUMENTS INTRODUCED THE TTL 7400 CHIPS (SOME DTL CHIPS WERE USED IN EARLIEST UNITS). ONE OF THE FIRST LIGHTWEIGHT UNITS FROM NARCO AVIONICS WAS THE UAT-1 IN THE MID '60s, A LUNCH BOX SIZED REMOTE MOUNTED BOX WITH A PANEL MOUNTED CONTROL HEAD. BY THE EARLY '70s NARCO AND KING WERE BUILDING EVEN LIGHTER PANEL MOUNTED UNITS. NARCO WENT AWAY IN 2011 BUT THE FAMOUS KING KT-76A WAS PRODUCED UP UNTIL A FEW YEARS AGO.
GARMIN OVER THE COUNTER SALES WITH A CUSTOM BUILT HARNESS
FOR EXPERIMENTAL AIRCRAFT ONLY
WE CAN PROVIDE YOU WITH GARMIN PRODUCTS AT THE SAME DISCOUNT AS OTHER INTERNET BASED GARMIN DEALERS. HOWEVER AS AN FAA CERTIFIED REPAIR STATION WE CAN DO SOMETHING THEY CAN'T. THAT IS TO PROVIDE A CUSTOM EASY TO INSTALL PROFESSIONALLY ASSEMBLED WIRING HARNESS WITH ALL CONNECTORS AND TERMINALS PRE-ATTACHED AND SOFTWARE LOADED. THIS ABSOLUTELY WILL SAVE YOU WEEKS OR MONTHS OF AGGRAVATION YOU JUST DON'T NEED.
* HARNESS COMES PREWIRED WITH EVERY POSSIBLE TIME SAVING FEATURE INSTALLED TO MAKE YOUR PROJECT FAST AND EASY. ALMOST PLUG & PLAY.
* FOR YOUR SAFETY WE USE ONLY MIL SPEC WIRE, COMPONENTS TECHNIQUES AND TOOLING USED IN THE MILITARY AND AEROSPACE INDUSTRY. DON'T EVER SETTLE FOR LESS!
* WE PRE-INSTALL THE LATEST SOFTWARE, PROGRAM THE SERIAL PORTS AND THOROUGHLY BENCH TEST USING THE HARNESS WE BUILT.
* TESTING IS PERFORMED USING CALIBRATED FAA APPROVED TEST EQUIPMENT ACCORDING TO FAA AND FACTORY STANDARDS.
* WE REGISTER YOUR WARRANTY AND ISSUE PAPERWORK AS AN FAA AIR AGENCY CERTIFICATE HOLDER. THIS SHOULD BE USEFUL DOWN THE ROAD.
WE TAG EACH COMPLETED AND TESTED HARNESS WITH AN FAA 8130-3 FORM THAT SHOULD PROVIDE ADDITIONAL VALUE TO YOUR COMPLETED PROJECT AND WE CAN CERTIFY YOUR TRANSPONDER (CFR PART 43 APPENDIX F FIRST PARAGRAPH) WITH A 24 MONTH LOGBOOK ENTRY. THE 8130-3, ALTHOUGH OPTIONAL, SHOULD PROVIDE ADDITIONAL CONFORMITY TO YOUR BUILD AND HELP WITH YOUR FINAL INSPECTION TOWARDS CERTIFICATION AS WELL AS IMPROVE RESALE VALUE.
WE HAVE PLENTY OF EXPERIENCE IN THIS AREA AND WOULD LOVE TO WORK WITH YOU. PLEASE GIVE US A CALL AND LET US KNOW WHAT YOU HAVE IN MIND. THE INITIAL CONSULTATION IS OVER THE PHONE AND WON'T COST YOU A DIME. SO PICK UP THE PHONE AND GIVE US A CALL.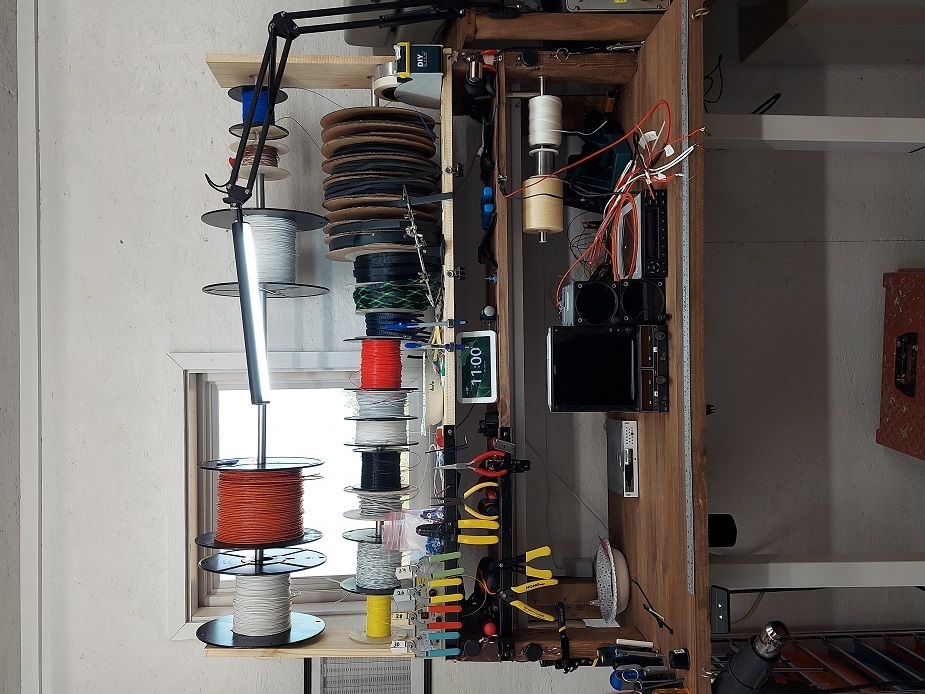 PROFESSIONAL HARNESSING BENCH

WE HAVE TWO OF THESE OUTFITTED TO PROVIDE ALL THE TOOLS WE NEED IN EASY REACH FOR THE FABRICATION OF HIGH QUALITY HARNESSING. THE BENCH IS MOUNTED ON AN ADJUSTABLE HEIGHT FRAME FOR BOTH SITTING AND STANDING AND INCLUDES A SOLDERING STATION, FOOT OPERATED HEAT GUNS (2) FOR HEAT SHRINKING. VARIOUS SIZES OF WIRE AND SNAKE SKIN STRAIN RELIEF AND ANTI-CHAFFING. ASSORTED NO-NIK WIRE STRIPPERS. LACING CORD, CRIMPERS, CONTINUITY TESTER WITH EXTRA LEADS AND PINS FOR TESTING, TWO POWER SUPPLIES, WIRE MARKING DISPENSER, MEASURING STICK, DUAL LIGHTING AND MUCH MORE. WE'VE ADDED 2 SHELVES FOR TOOLS AND SUPPLIES TO KEEP OUR WORKSPACE UNCLUTTERED AND A FOOT REST FOR COMFORT WHILE SITTING. THE CLIPS YOU SEE ON THE TOP SHELF IS WHERE WE ATTACH OUR TECH DATA SHEETS FOR EASY VIEWING. WE USE FULLY ADJUSTABLE CHAIRS WITH ARM RESTS IN AN ENVIRONMENTALLY CONTROLLED WORKSPACE.
IN MY 47 YEARS OF SERVICE TO THE GENERAL AVIATION COMMUNITY I CAN ASSURE YOU THIS IS AS GOOD AS IT GETS.
ADS-B SELF INSTALL OFFER
FOR CERTIFIED AND EXPERIMENTAL AIRCRAFT
WE ARE NOW OFFERING A SELF INSTALL KIT FOR THE APPAREO ESG ADS-B TRANSPONDER. THE KIT INCLUDES EVERYTHING YOU NEED TO COMPLETE THE INSTALL:
* ESG TRANSPONDER WITH A CUSTOM BUILT WIRING HARNESS, WAAS ANTENNA, RG400 COAX, RF CONNECTORS, MOUNTING TRAY & HARDWARE AND A LOANER BNC CRIMP TOOL.
* WIRES ARE PRE-MARKED FOR EASY SPLICING AND HARNESS IS TESTED AND PROGRAMMED/TESTED ON THE BENCH WITH THE SAME HARNESS AND ISSUED AN 8130-3 FORM.
* WE PREPROGRAM YOUR ESG TRANSPONDER WITH YOUR AIRCRAFT'S DATA AND PERFORM THE 24 MONTH TRANSPONDER CERTIFICATION AS A BENCH TEST PRIOR TO SHIPPING.
* CURRENT INSTALL MANUAL, INSTALLATION INSTRUCTIONS, FLIGHT MANUAL SUPPLEMENT, TRANSPONDER 24 MONTH LOG STICKER AND SAMPLE 337 FORMS AND SAMPLE LOG ENTRY FOR YOUR IA TO USE AS IS OR REDESIGN.
* YOUR IA WILL AUTHORIZE A FLIGHT TEST USING THE 337 FORM AND OUR BRIEFING. WE WILL PULL THE RESULTS FROM THE FAA WEBSITE. THE SECOND 337 FORM AUTHORIZES RETURN TO SERVICE.
IF ANY ADDITIONAL ITEMS ARE NEEDED TO COMPLETE THE INSTALL WE WILL SHIP IT TO YOU AT NO ADDITIONAL CHARGE. OTHER THAN YOUR A&P/IA FEES THERE IS NOTHING ELSE TO BUY.
PRICE STARTS AT $3295. THAT'S LESS THAN THE CATALOG PRICE (THAT DOES NOT INCLUDE THE WIRING HARNESS OR ADDITIONAL PARTS AND SERVICES WE PROVIDE).
YOU WILL NEED AN A&P TO INSTALL AND AN IA TO INSPECT AND SIGN OFF THE THE WORK. THEY WILL NEED TO INSTALL THE WAAS GPS ANTENNA, RUN THE COAX, REMOVE THE OLD TRAY AND SOME WIRING, SPLICE 2 WIRES (POWER AND GROUND), SPLICE 9 ENCODER WIRES (ALL SPLICES MARKED AND ATTACHED), MOUNT THE NEW TRAY, CONNECT THE TRANSPONDER ANTENNA, SLIDE IN THE NEW TRANSPONDER, GROUND CHECK AND INSPECTION, ADS-B TEST FLIGHT. (A GROUND TEST IS REQUIRED BEFORE TEST FLIGHT. CALL US FOR DETAILS).
THE APPAREO ESG ADS-B OUT MODE S TRANSPONDER COUPLED TO A STRATUS 3i ADS-B IN RECEIVER IS PERHAPS THE EASIEST AND MOST ECONOMICAL ROUTE TO GLASS IN THE COCKPIT. WITH YOUR
TOUCHPAD VIEW YOUR POSITION AND ROUTE SUPERIMPOSED ON A COLORFUL MOVING MAP WITH TRAFFIC AND WEATHER. THERE IS MUCH MORE. VISIT Stratus By Appareo | Avionics for Pilots.
THE 3i ADS-B IN MODULE COMES PLUG AND PLAY PREWIRED TO YOUR ESG TRANSPONDER. AN ADDITIONAL GPS ANTENNA IS NOT REQUIRED BECAUSE THE 3i RECEIVES IT'S SOURCE DATA FROM THE WAAS FROM THE ESG TRANSPONDER, AS WELL AS POWER.
ESG TRANSPONDER WITH HARNESS DESIGNED TO SPLICE INTO YOUR EXISTING MODE C ENCODER REQUIRES 11 WIRE SPLICES. $3795
ESG TRANSPONDER WITH HARNESS PRE-WIRED TO A NEW TRANSCAL SERIAL ENCODER REQUIRES JUST 2 (POSITIVE AND NEGATIVE) SPLICES. $4110
ESG TRANSPONDER WITH A STRATUS 3i ADS-B IN USING YOUR EXISTING MODE C ENCODER. $4395
ESG TRANSPONDER WITH A STRATUS 3i ADS-B IN AND A TRANSCAL SERIAL ENCODER WITH JUST 2 WIRES TO SPLICE. $4710
FOR ADDITIONAL DETAILS CALL US OR VISIT appareo.com
TO GET STARTED PLEASE TEXT OR EMAIL PHOTOS OF YOUR RADIO STACK AND EXTERIOR ABOVE THE COCKPIT FOR ANTENNA PLACEMENT ADVICE PLUS MAKE, MODEL AND N NUMBER TO FLIGHTCONTROLSERV@GMAIL.COM.
IF YOU NEED DETAILS PLEASE GIVE ROBERTA A CALL AT (850) 776-0369
WHO CAN PROVIDE MAINTENANCE ON A MODE A/C TRANSPONDER AND SYSTEM
Definition: A transponder is a box that contains all necessary internal circuitry and controls (if it is panel mounted). It can be removed from a rack or tray for maintenance or repair.
A transponder system may be defined as the parts that are permanently installed such as the rack or tray, wiring and connectors, circuit protection, antenna and the coax (transmission line) that supplies the antenna as well as the transponder itself. Interfacing items usually include an encoder (altitude reporter) and possibly a connection to an ADS-B, GPS, display, control head or other item.
PRIVATE PILOT: May conduct functional testing in accordance with the manufacturer's operational instructions. A private pilot may not provide maintenance on any part of the system (even preventative).
LICENSED MECHANIC: May remove the transponder for maintenance or inspect wiring, security and test wiring continuity.
CERTIFIED REPAIR STATION: May provide both of the above plus recertification and repairs if appropriately rated. Many CRS holders perform testing only.
MANUFACTURER OF TRANSPONDER: May provide repairs but not authorized to recertify.
THIS AGENCY: All of the above. However unless you can bring the aircraft to us you will need a licensed mechanic to perform maintenance on the system.